When I saw the recent announcement of the Google Affiliate Network shutting down, I had to go find my account login details. I was probably one of many folks with an account that was never used. I guess I just preferred LinkShare, ShareASale and Commission Junction.  If affiliate marketing is your business model, you might want to know about what might be in store for the industry…
The recent news of Google Affiliate Network's retirement comes as little surprise for many in the performance marketing space. GAN wasn't a Google ad brainchild like AdWords — it was just a small part of the $3.1B DoubleClick acquisition — and more recent Google-developed performance products (Product Listing Ads, remarketing, Conversion Optimizer) compete directly with the same affiliate marketers taking advantage of GAN's services.

While this move isn't necessarily what publishers want to hear, let's be honest: it's not that big of a deal. Google might be the 800 pound gorilla in the technology world, but GAN was ranked 4th by affiliates based on revenue generated, placing it under Commission Junction, Linkshare and ShareASale. These networks and others will fill the gaps left by GAN's closure, but Google's exit from the affiliate world will have other industry-altering effects:

1. Say goodbye to the small guys

With GAN out of the picture, the next to fold will be the blind affiliate and ad networks. The affiliate space has long been plagued with a reputation for fraudulence, making way for alternative vendors to innovate, automate and shine a bright light inside a notoriously dark industry. In the wake of Google's withdrawal, technology-focused companies will have a major opportunity to bring viable, fraud-free solutions to a lucrative market, with affiliate marketing spend expected to reach $4 billion by 2014. Soon enough, the old school affiliate networks will have to adapt, or they'll fall by the wayside.
Click here to read the rest of the article.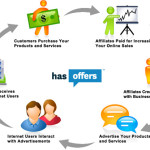 The best way to be successful in affiliate marketing is to understand the goods and services you are selling and match these goods and services to the correct audiences online. When you conduct research online, you will notice that people who have the same tastes in clothing, food, hobbies, and other pursuits congregate in the same areas. These areas are popular websites, chat rooms and open forums, and blog sites. Before joining any affiliate marketing program, you should investigate popular markets online to see what people are interested in buying. Once you have a better understanding of these groups, then you can choose a company to work for. This will make selling products much easier.
Depending on the time you have to devote to affiliate marketing, you may be able to join more than one program as long as the programs do not promote competing products. When you work for more than one company, your chances to increase your profits are much higher. By catering to different audiences online, you will be able to maximize your profits in very little time. For many in the affiliate marketing business, understanding the products and markets is the key to their success.
In addition to placing ads in various places online, you can also create your own website and market that as well. Your website can entice customers to purchase products from the company you are working for by providing additional information, articles, and other items. You can also prepare a monthly newsletter so customers will return often to purchase additional products. This will mean additional commissions each time you are successful in attracting repeat business. Marketing your website and the products are all you need to be successful in this field.
While there are many other home business ideas you can take advantage of, affiliate marketing is one of the most fun. As you conduct research, you may get your own ideas for products to sell online. Once you know how to find markets, you can begin targeting more markets in order to increase your earnings. Those who become experts in affiliate marketing are able to bring as much as they want each month. Being able to control your income and work the hours you want to work are just some of the big rewards you will receive when you join an affiliate marketing program. Companies reward those who perform well by offering them higher commissions, the ability to train others and earn a commission off their sales, and much more.
If affiliate marketing is your business model of choice, you'll want to to check out Affiliate Summit's list of the top 25 affiliate marketing blogs of 2012. Take time to check out the top blogs listed, so you can stay on top of the latest news regarding this industry.