Clickbank is yesterday. Today, Amazon can be a great and easy way to make money online. The commissions are lower, but you can make it up by finding high-priced items to sell in volume.
Why Amazon?
The public doesn't have as much trouble buying physical products as they do digital. You won't have the long and complex pre-sell activity you need for most digital products.
On top of that, people who find you through your Amazon niche site will often go on browsing the store, earning you more commissions on things you never intended on selling!
With digital product sites you have to keep updating and building links to keep them earning. Amazon sites can work for you for months or even years without a bit of upkeep. You can really "set it and forget it!"
The reason for this is that there are so many Amazon niches that are not saturated like every single thing in Clickbank is.
Find Your Niche
Finding that untapped niche is the key, and it's not hard to find! There are literally tens of thousands of products on Amazon. All you have to do is browse the categories within Amazon and find a suitable niche. Here are some guidelines:
You're looking for a nice mix of related products in a single niche. Ninety percent should be products over $100 with the remaining 10 percent low-priced items. The reason for this is that there is a monthly threshold that must be met in order to get to higher commission levels. You can do this quickly with low-priced items making your bigger-ticket items more profitable later in the month.
Products should have at least three stars and ten user reviews. This assures the product is popular and of a decent quality.
Avoid products that can be found easily at the local Wal-Mart. Stay away from your first impulses, like HD televisions, cell phones and computers. These areas are already saturated and you'll find it hard to break in.
Confirm that the product has over 4000 searches per month on Google. Take a look at the amount of competition; too, as too much may ruin your chances of making money online.
Create Your Site
Once you've found a nice assortment of products, you'll start a blog. Obtain a good domain name with your primary keyword in it. Set up your blog on your hosting account and find a good theme.
Now write an article on each product you've identified. You can do this yourself or hire it out at someplace like textbroker.com. Each article should contain:
– Who could use the product – The main features – Why to buy the product – Simple text links within the article to the Amazon product under your affiliate ID
Drip feed these articles over a few weeks. Promote them with slowly-built links. Although beyond the scope of this article, search for other article marketing and link-building tips.
An Amazon niche site can be making money online over time. You can make even more money if you keep creating more and more link backs and add more products as they enter the niche.
Are you one of those bloggers that struggles to make money? Discover 3 powerful ways to earn money with your blog. All you have to do is implement these 3 methods onto your site and you will earn more money with each post you publish.
1. Affiliate Promotions
Earning money through other peoples products is an easy way to earning more from your blog. Almost every post you create can be written in a way that allows you to promote a product in your niche as an affiliate. You don't have to be in your readers face about your affiliate offers just put them in there.
Here's two examples of how to put your affiliate links into your posts. You can write your post in such a way that you can subtly mention the affiliate product in due course as you write. Weave it into the topic in a very natural way so that readers hardly notice that you are promoting anything.
Another way to work an affiliate product into your post is to place a list of resources at the end of your post. If you put two or three resources at the end of a post and one of them is an affiliate link it's not going to offend your readers especially if you are linking to a relevant offer that would really benefit them.
This is a powerful but effective way to weave affiliate promotions into your blog. The benefit for you is more money in your pocket from your writing.
2. Build a List
Build a list, if you haven't started building your list then it's time to get started. If you have started can you make your list grow faster?
It's important to feature your list on every page of your blog. A great place to encourage people to join your its is at the end of each post. You'll want to help encourage them to join your list by offering them something great as a benefit for joining your list. Then it's your job to keep providing them with great content via your list.
But once you have a list going it gives you an additional way to interact with your audience and build their trust. As you gain their trust you'll be in a better place to help them by knowing what affiliate products would fit their needs best.
Having a list as another way to promote affiliate offers will also increase your income. That makes you an even happier blogger.
3. Launch Pad
A third way to earn more with your blog is to use it as a launch pad. As a launch pad you can take advantage of your existing audience by using surveys to find out what information would be most helpful to them. What would they like you to create for them?
By doing this you can develop your own product to offer your customers. Yes, you can setup your own digital product like an ebook, or short report that will address your readers needs.
A very powerful way to use your blog this is to encourage traffic to join a membership site that you add to your blog. This is a great way to harness your existing readers and develop a recurring income stream that will really take you to a new financial level.
If you implement list building, affiliate product promotion in your posts and use your site as a launch pad to your own product(s) you will discover a new level of appreciation for your blog as you see more money in your bank account.
To make money online is just like conducting business or providing services offline. You will need the following:
1.You need to either create a product or join an affiliate program that is in demand. Affiliate programs are commission-based programs run by merchants online. Commission income can range from 20-60% per sold product.
2.Almost every successful internet marketer or online entrepreneur started from affiliate programs with companies that
offer products or services in any particular area. This helps you to get started and make money online today without even
having to create your own product.
3.Also if you have your own product, that's great, but it has to be a product or service that people need.
4.After getting a product or joining an affiliate program, it's time to develop a website with a sales letter that states the benefits of the product you are promoting to make money online.
5. The next step, which is very important, is to drive traffic to your website or blog, so that prospects or visitors to your site will see the product you have to offer online. To drive traffic to your site, you could use any of the following methods: pay per click advertising, social media, youtube or posting in niche-related forums.
6.To make money online with the above method, specialize in an area and focus on a niche.
7.You will surely start making money online today if you follow the above steps.
One of the best ways through which one can make money online is via affiliate marketing. This is a online business mainly based on performance whereby the affiliate to a business is rewarded for each visitor or customer brought into a certain business via his efforts. This is based on profit gained on per click, per lead or per sale. Making money online via affiliate marketing has several advantages and some disadvantages.
First of all, the marketer does not have to have his own product. This makes the business easy to start as one does not need to have a large capital. One only needs to place an advert in his site that will lead traffic to the other site and purchase or use whichever services they want.
This is a safe way of making money as payment is instant. One needs to connect his account to click bank and with every purchase, the earned amount is deposited into his click bank account. This is a viable and well paying job as there is a high commission payout. Some companies might offer commissions of up to 50% or more. This is a lot of money especially if the product sold has a high cost.
Affiliate marketing is run under fully autopilot. This means that after the necessary links are set, one does not have to keep a track record of the business on a daily basis. For every purchase and money earned, the system will do the calculations as per the set agreement and the money deposited automatically into the affiliates click bank account.
For merchants, this is a great way of increasing the chances of attracting more customers and traffic to a website. This signifies more sales and a successful business. Merchants also avoid wasting more time in other marketing strategies. This is also a great way of knowing exactly what the customers need and the changes that need to be effected. They can also be able to clearly tell the trends in the market and what to provide during a specific season.
However, without proper business strategy and planning, this can be a very easy way of losing money. One therefore needs to have a smart business strategy before venturing into affiliate marketing. The commission can be stolen from the affiliate if the strategy has not been properly implemented. For example, the agreement might be 50% commission, if the customer not purchase on their first visit and fill in the opt in list for freebies. Then, you effort might be burnt off. The affiliate ends up losing a lot of money and times. By the time you discover the issue, if might be too late. Thus, a proper strategy is a must for keeping 100% effort to yourself.
There have been cases of misleading and false types of advertising that have caused complaints from people. This has somewhat tarnished the reputation of affiliate marketing.
Lastly, the pay can be sporadic in some instances. This is because sometimes the business might not be moving well and the products marketed are not on demand. Hence, this cannot be depended upon as a regular and sole source of income. One should do enough research on the best programs to use and how to venture into the business in order to be successful.
5 Characteristics of an Entrepreneur
What is an entrepreneur? According to Wikipedia, an entrepreneur is a person who has possession of an enterprise, or venture, and assumes significant accountability for the inherent risks and the outcome. To translate it into simple terms, an entrepreneur owns a business of which the entrepreneur is responsible for the risks and outcomes. To be an entrepreneur, one has to possess defined characteristics of an entrepreneur.
What are the characteristics of an entrepreneur? Are these characteristics vital? It's a no-brainer actually, of course it's important! Your chances of business success is significantly lower if you do not possess these characteristics. The characteristics of an entrepreneur consists of:
1. Good leadership
Leadership is a rare characteristic. It is very hard to find individuals with good leadership qualities. This is because not many people dare to take responsibility, or take the lead. Alan Keith of Genetech once said, "Leadership is ultimately about creating a way for people to contribute to making something extraordinary happen." Precise and right to the point.
To be a good entrepreneur, you must be a leader. You must be able to guide, direct, influence and affect people. This way, all your business problems can be overcomed with ease.
2. Risk taker
All businesses involve risks. There is not a single business in the known world right now that is 100% risk-free. You can't make money if you are not willing to take risks. If you are not willing to take risks, then you are bound to fail in the business world.
But, a successful entrepreneur does not take all the risks he faces. All risks must be evaluated first, before taking the dive. You wouldn't want to dive into some unknown waters, would you?
3. Honest and Trustworthy
This is an undeniable characteristic that all entrepreneurs MUST have. Let's face it, would you give your money to some stranger that guarantees you to make 1000% profit on the street? No you would not. Maybe if that stranger asked for $10 dollars or he convinced you with hard facts, you would, but that's out of the case. As the saying goes,"Honesty is the best policy." Every one likes honest and trustworthy people.
Being honest and trustworthy is considered one of your most important characteristics. It would take years to build your credibility and honesty, but it would take just a few seconds to totally destroy your image should you do something dishonest.
4. Your Passion
Your passion fuels your actions. And your actions make money. Any entrepreneur should be passionate about their business to be able to perform well. You must maintain your enthusiasm and interest in your field. For example, when making money online is your passion, you wouldn't feel working even if you stick yourself to the monitor 24hours a day.
Your passion makes it easy for you to act. Working no longer means working when you work with your passion. It just means doing something you like. If you like to play games and playing games is your 12-hour job, it certainly wouldn't feel like working 12 hours a day.
5. Intelligence
No, I don't mean you need to have exceptionally high IQ to success. But what I mean is that an entrepreneur should be clever and witty in all your business dealings. You have to show that you are concentrated and 100% focused on your job to be able to gain your clients' respect and trust.
The world is a mean one. Scammers are out there somewhere, preying for a weak target everyday. To resist being scammed or being duped, an entrepreneur should be smart and be alert of who you are dealing with. If not, you would eventually suffer some uncalculated losses.
These are one of the few characteristics of a successful business entrepreneur. These characteristics will, no doubt, help you overcome obstacles you may have to face when you are operating a business. And without these characteristics, your business may eventually fail and you will have to bear the losses.
What if you have the main characteristics of an entrepreneur already? Then study the market, find a solution or make a product, get some capital and you're ready to make a killing in the ever-changing world of business.
IM Wealth Builders Ltd. (The Internet Marketing Wealth Builders) is a limited company registered on Cyprus within the European Union. The company is owned and operated by Soren Jordansen, John Merrick & Cindy Battye.
The company was founded in October 2009 and primarily creates software and information products for small to medium online businesses and for independent internet marketers and affiliates.
Soren Jordansen is a Danish citizen who has been living in Peyia on sunny Cyprus since early 2010. He started his internet marketing carreer in 2004 developing his own products and membership sites. He quit his job in the army in mid 2006 to focus entirely on his internet marketing business.
John Merrick got started in internet marketing back in 2000, first as a programmer for hire – but soon as the creator and owner of his own sites and products. John & Soren met in 2006 and teamed up to produce sites and products together and have been doing so ever since.
Cindy Battye teamed up with John & Soren in early 2009 – IM Wealth Builders was founded later that year. Cindy is the company's queen of networking, JV and affiliate relations on top of being able to whip out some truly awesome graphics.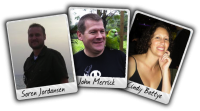 Front End Bonus:  LIMITED SPOTS AVAILABLE!
I believe that Covert Store Builder is the best eCommerce theme on the market today! I want to help you achieve your business goals. Instead of offering you PLR products that you will most likely not bother to read or utilize, my front end bonus offer is FREE email coaching for 30 days. You may ask me any questions regarding this theme or anything else in the Internet Marketing arena. I've been online for over 12 years and I welcome the opportunity to assist you. When your email coaching has concluded, you will have an opportunity to join my free PRIVATE Internet Marketing group on LinkedIn.
CLICK HERE to read my About Me page to learn more about my Internet Marketing background and experience.
Upsell Bonus: LIMITED SPOTS AVAILABLE!
If you invest in an upsell offer for Covert Store Builder through my link, in addition to the above front end bonus, I'll also include four private 30-minute coaching calls during the same 30-day timeframe.
BONUS NOTE:
We know that time is money! I do not want to waste your time or mine, so keep in mind that my bonus offer is NOT for tire kickers. Your 30-day timeframe starts the date of purchase, so PLEASE be ready and willing to study and implement the strategies taught in Covert Store Builder, BEFORE purchasing through my link, ok?
3 QUICK STEPS TO CLAIM YOUR BONUS:
1. CLICK HERE to purchase Covert Store Builder.
2. Forward your receipt to bonus[at]internetmarketingfromhome.com.
3. I'll send you my coaching email address, Skype ID and/or phone number.
Watch The Video Below To See How The Brand New Covert Store Builder Theme Can Power YOUR OWN Profitable Affiliate Store Network In Just 5 Minutes From Right Now!
Click the "Get It Now" Button Below To Grab Covert Store Builder And My EXCLUSIVE Bonus NOW!

Check Out My Latest Covert Store Builder Review Video
Want Easy Affiliate Store Profits?
Covert Store Builder is a 1-click install WordPress theme that will allow you to run a fully functional self optimizing affiliate store – with real members generating sales for you.
It's developed by the IM Wealth Builders and if you have seen their previous Covert Social Press, Covert PinPress and Covert VideoPress themes… You know that this one is going to be amazing too!
This is the hottest ecommerce theme I've ever seen.
Who can resist a self optimizing theme that automatically updates in real time and always shows the most popular products first?
You HAVE to watch the demo video below and see this theme in action for yourself!
COVERT STORE BUILDER DEMO VIDEO
Covert Store Builder allows you to…
– Have real members join your site and generate sales for you on autopilot.
– Integrate an autoresponder so your members will be automatically added to your lists and you can sell to them over and over again.
– Automate traffic generation with Facebook, Twitter & Pinterest. Including Facebook comments!
– Fill your sites with quality products and content in minutes – without ever writing a single word yourself.
– Utilize the world's first intelligent self optimizing affiliate store theme to AUTOMATICALLY maximize your commissions and profits.
– Fully monetize, including a very clever wish list feature I have never seen in WordPress before.
Covert Store Builder is totally unique, cutting edge, insanely powerful, yet so simple to use it makes sending an email seem clunky.
CLICK HERE to check out my time sensitive EXCLUSIVE bonus.
At 11:59pm on Thursday, June 13th, Covert Store Builder will be taken down – and if you're too late you WILL be greeted with a "Sold Out" page!
You see the guys behind it have always planned to launch this on Clickbank to a bigger audience.
And in preparation for that, they are taking the offer down to do some tweaks to it – and to focus on support for current members.
I'm not sure when Covert Store Builder will be available again… But when it returns the price will be much higher than it is today – $67 or more.
I highly recommend that you grab your copy now, so you can get this at the lowest possible price. If their previous themes are to go by – Covert Store Builder will sell very fast and the price will go up quickly!
Click the "Get It Now" Button Below To Grab Covert Store Builder And My EXCLUSIVE Bonus NOW!

CLICK HERE NOW TO DOWNLOAD PROMOTE ME PRO BONUSES