IM Wealth Builders Ltd. (The Internet Marketing Wealth Builders) is a limited company registered on Cyprus within the European Union. The company is owned and operated by Soren Jordansen, John Merrick & Cindy Battye.
The company was founded in October 2009 and primarily creates software and information products for small to medium online businesses and for independent internet marketers and affiliates.
Soren Jordansen is a Danish citizen who has been living in Peyia on sunny Cyprus since early 2010. He started his internet marketing carreer in 2004 developing his own products and membership sites. He quit his job in the army in mid 2006 to focus entirely on his internet marketing business.
John Merrick got started in internet marketing back in 2000, first as a programmer for hire – but soon as the creator and owner of his own sites and products. John & Soren met in 2006 and teamed up to produce sites and products together and have been doing so ever since.
Cindy Battye teamed up with John & Soren in early 2009 – IM Wealth Builders was founded later that year. Cindy is the company's queen of networking, JV and affiliate relations on top of being able to whip out some truly awesome graphics.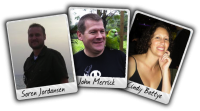 Front End Bonus:  LIMITED SPOTS AVAILABLE!
I believe that Covert Store Builder is the best eCommerce theme on the market today! I want to help you achieve your business goals. Instead of offering you PLR products that you will most likely not bother to read or utilize, my front end bonus offer is FREE email coaching for 30 days. You may ask me any questions regarding this theme or anything else in the Internet Marketing arena. I've been online for over 12 years and I welcome the opportunity to assist you. When your email coaching has concluded, you will have an opportunity to join my free PRIVATE Internet Marketing group on LinkedIn.
CLICK HERE to read my About Me page to learn more about my Internet Marketing background and experience.
Upsell Bonus: LIMITED SPOTS AVAILABLE!
If you invest in an upsell offer for Covert Store Builder through my link, in addition to the above front end bonus, I'll also include four private 30-minute coaching calls during the same 30-day timeframe.
BONUS NOTE:
We know that time is money! I do not want to waste your time or mine, so keep in mind that my bonus offer is NOT for tire kickers. Your 30-day timeframe starts the date of purchase, so PLEASE be ready and willing to study and implement the strategies taught in Covert Store Builder, BEFORE purchasing through my link, ok?
3 QUICK STEPS TO CLAIM YOUR BONUS:
1. CLICK HERE to purchase Covert Store Builder.
2. Forward your receipt to bonus[at]internetmarketingfromhome.com.
3. I'll send you my coaching email address, Skype ID and/or phone number.
Watch The Video Below To See How The Brand New Covert Store Builder Theme Can Power YOUR OWN Profitable Affiliate Store Network In Just 5 Minutes From Right Now!
Click the "Get It Now" Button Below To Grab Covert Store Builder And My EXCLUSIVE Bonus NOW!

Check Out My Latest Covert Store Builder Review Video
Want Easy Affiliate Store Profits?
Covert Store Builder is a 1-click install WordPress theme that will allow you to run a fully functional self optimizing affiliate store – with real members generating sales for you.
It's developed by the IM Wealth Builders and if you have seen their previous Covert Social Press, Covert PinPress and Covert VideoPress themes… You know that this one is going to be amazing too!
This is the hottest ecommerce theme I've ever seen.
Who can resist a self optimizing theme that automatically updates in real time and always shows the most popular products first?
You HAVE to watch the demo video below and see this theme in action for yourself!
COVERT STORE BUILDER DEMO VIDEO
Covert Store Builder allows you to…
– Have real members join your site and generate sales for you on autopilot.
– Integrate an autoresponder so your members will be automatically added to your lists and you can sell to them over and over again.
– Automate traffic generation with Facebook, Twitter & Pinterest. Including Facebook comments!
– Fill your sites with quality products and content in minutes – without ever writing a single word yourself.
– Utilize the world's first intelligent self optimizing affiliate store theme to AUTOMATICALLY maximize your commissions and profits.
– Fully monetize, including a very clever wish list feature I have never seen in WordPress before.
Covert Store Builder is totally unique, cutting edge, insanely powerful, yet so simple to use it makes sending an email seem clunky.
CLICK HERE to check out my time sensitive EXCLUSIVE bonus.
At 11:59pm on Thursday, June 13th, Covert Store Builder will be taken down – and if you're too late you WILL be greeted with a "Sold Out" page!
You see the guys behind it have always planned to launch this on Clickbank to a bigger audience.
And in preparation for that, they are taking the offer down to do some tweaks to it – and to focus on support for current members.
I'm not sure when Covert Store Builder will be available again… But when it returns the price will be much higher than it is today – $67 or more.
I highly recommend that you grab your copy now, so you can get this at the lowest possible price. If their previous themes are to go by – Covert Store Builder will sell very fast and the price will go up quickly!
Click the "Get It Now" Button Below To Grab Covert Store Builder And My EXCLUSIVE Bonus NOW!